Radicalisation Awareness (Prevent Duty)
The School SPOC (Single Point of Contact) is Mrs C Hilton
Southfields is proactive in ensuring the staff, stakeholders and school community are aware of radicalisation and work incredibly hard to keep our pupils safe from any form of radicalisation as well as keeping them informed and educated. We also provide a wealth of opportunities to understand at age appropriate levels the signs and vulnerabilities of radicalisation and who to contact if they are worried or need help.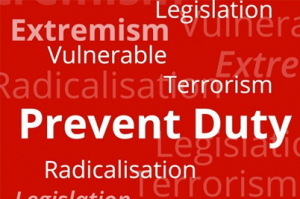 Radicalisation is defined as the process by which people come to support terrorism and violent extremism and, in some cases, to then participate in terrorist groups.
There is no obvious profile of a person likely to become involved in extremism, or a single indicator of when a person might move to adopt violence in support of extremist ideas. The process of radicalisation is different for every individual and can take place over an extended period or within a very short time frame.
Three main areas of concern have been identified for initial attention in developing the awareness and understanding of how to recognise and respond to the increasing threat of children/young people being radicalised:
Increasing understanding of radicalisation and the various forms it might take, thereby enhancing the skills and abilities to recognise signs and indicators amongst all staff working with children and young people
Identifying a range of interventions – universal, targeted and specialist – and the expertise to apply these proportionately and appropriately.
Taking appropriate measures to safeguard the wellbeing of children living with or in direct contact with known extremists.
National Guidance and Strategies
The following are part of the government's counter terrorist strategy, referred to as CONTEST.
The Prevent Strategy: A Guide for Local Partners in England. Stopping people becoming or supporting terrorists and violent extremists The expectation is that within all local authority areas a Prevent multi-agency partnership board is established to plan and manage responses. Children's Services should be involved and participate in the Area Partnership Board for Prevent and kept informed of the particular risks in their area.
Learning together to be safe: A toolkit to help schools contribute to the prevention of violent extremism. This provides guidance and advice on the importance of schools developing approaches to prevent violent extremism in children and young people within their existing work.
Recognising and Responding to Radicalisation: Considerations for policy and practice through the eyes of street level workers.
Channel: Supporting Individuals vulnerable to recruitment by violent extremists: A Guide for local partnerships. The Channel programme is an initiative led by the Police and operates in areas identified as having higher levels of risk, to provide support to those at risk of being drawn into violent extremism. The guidance identifies as good practice the importance of having:
A clear referral process incorporating a multi-agency panel;
An identified co-ordinator or location of expertise for advice, guidance and support;
Information sharing protocols
Cambridgeshire Police operates a local Channel project which can provide advice and support to individuals at risk.
Referral and Intervention Processes
Locally, the following organisations are able to provide additional advice and guidance in relation to safeguarding individuals vulnerable to radicalisation and children who may be at risk through living with or being in direct contact with known extremists:
Key contacts within Cambridgeshire Police are:
Prevent referrals are made to the Customer Service Centre. Tel. 0345 045 5203 (Cambs) or 01733 864180 (Peterborough).

Advice may be sought regarding Prevent concerns by calling Cambridgeshire Police on 101 and selecting extension 2596 or 2595 or by email Prevent@cambs.pnn.police.uk

Referrals should be made using the "Referral Form to Cambridgeshire or Peterborough Children's Social Care" which can be found on the Cambridgeshire and Peterborough Safeguarding Children Partnership Board www.safeguardingcambspeterborough.org.uk/children-board/
Understanding and Recognising Risks and Vulnerabilities of Radicalisation
Children and young people can be drawn into violence or they can be exposed to the messages of extremist groups by many means.
These can include through the influence of family members or friends and/or direct contact with extremist groups and organisations or, increasingly, through the Internet. This can put a young person at risk of being drawn into criminal activity and has the potential to cause Significant Harm.
The risk of radicalisation is the product of a number of factors and identifying this risk requires that staff exercise their professional judgement, seeking further advice as necessary. It may be combined with other vulnerabilities or may be the only risk identified.
Potential indicators include:
Use of inappropriate language
Possession of violent extremist literature
Behavioural changes
The expression of extremist views
Advocating violent actions and means
Association with known extremists
Seeking to recruit others to an extremist ideology
The following guidance provides advice on how to manage and respond to concerns of children and young people identified as being vulnerable to and affected by the radicalisation of others.
The Prevent strategy is not just about discussing extremism itself, which may not be appropriate for younger children. However, it is about teaching children the British Values such as Rule of Law, Democracy, Individual Liberty , Tolerance and Mutual respect.
We do many age appropriate things in school to help students become positive, happy members of society, which also contributes to the Prevent Strategy. These include:
Exploring other cultures, religions and promoting diversity and challenging any prejudice.
Developing critical thinking skills and a strong, positive self-identity; promoting the spiritual, moral, social and cultural development of students, as well as British values such as democracy.
Staff being aware of the vulnerable pupils within their cohort. We also aim to protect students from the risk of radicalisation, for example, using filters on the internet to make sure they can't access extremist and terrorist material, or by vetting visitors who come into school to work with students.
Importantly, we can provide a safe place for pupils to discuss any issues so they better understand how to protect themselves.
Children are spending more time than ever on social media and gaming platforms so it is no surprise that online grooming by extremists is on the rise. Young people are especially being targeted by groups and individuals promoting violence and hatred.
Helping your child be digitally aware and knowing the signs of radicalisation will help keep them safe and protect them from potential risks.
You want your child to be happy and healthy and that means you already know the places you can get help and advice if they're not well or are struggling at school. Support is also there if you're worried your child is being radicalised or exploited by extremists. https://actearly.uk/
Educate Against Hate: