Humanities
Humanities at Southfields Primary School includes History and Geography. Please see below for more information about each of the subjects.

History is a key subject in the Primary Curriculum and pupils will gain coherent substantive and disciplinary knowledge and understanding of Britain's past and that of the wider world. History helps pupils to understand the complexity of people's lives, the process of change, the diversity of societies and relationships between different groups, as well as their own identity and the challenges of their time.
At Southfields Primary School we are committed to providing all children with learning opportunities to engage in history. Our policy (which can be found below) sets out a framework within which teaching and non-teaching staff can work, and gives guidance on planning, teaching and assessment.
The national curriculum for History aims to ensure that all pupils:
Know and understand the history of the United Kingdom as a coherent, chronological narrative, from the earliest times to the present day.
How people's lives have shaped this nation and how Britain has influenced and been influenced by the wider world.
To know and understand significant aspects of the history of the wider world: the nature of ancient civilisations; the expansion and dissolution of empires; characteristic features of past non-European societies; achievements and follies of mankind gain
To deploy a historically grounded understanding of abstract terms such as 'empire', 'civilisation', 'parliament' and'peasantry'.
To understand historical concepts such as continuity and change, cause and consequence, similarity, difference and significance, and use them to make connections, draw contrasts, analyse trends and frame historically-valid questions
To create their own structured accounts, including written narratives and analyse; understand and the methods of historical enquiry
To know how evidence is used rigorously to make historical claims, and discern how and why contrasting arguments and interpretations of the past have been constructed.
Geography is an essential part of the curriculum, it provides a means of exploring, appreciating and understanding the world in which we live and how it has evolved. Geography explores the relationship between the Earth and its people through the study of place, space and environment. It contributes to the cultural, social, spiritual and moral life of children as they acquire knowledge of a range of different cultures and traditions, and learn tolerance and understanding of other people and environments. Geography is the subject in which pupils learn the skills of understanding a locality and how and where people fit into its overall structure. Developing geographical skills is essential as children live in a world that is wide open to them. With opportunities to travel and work in different cities and countries across the world, pupils need to use efficiently maps, charts and other geographical data. The Geography Curriculum places great importance on the interaction between the physical and the human environment. Many areas of study give opportunities to make children aware of these effects upon their surroundings, their own responsibilities and how they can contribute to improving the environment, however small that contribution might be.
The national curriculum for Geography aims to ensure that all pupils:
Develop contextual knowledge of the location of globally significant places – both terrestrial and marine – including their defining physical and human characteristics and how these provide a geographical context for understanding the actions of processes
Understand the processes that give rise to key physical and human geographical features of the world, how these are interdependent and how they bring about spatial variation and change over time
Are competent in the geographical skills needed to: collect, analyse and communicate with a range of data gathered through experiences of fieldwork that deepen their understanding of geographical processes
Interpret a range of sources of geographical information, including maps, diagrams, globes, aerial photographs and Geographical Information Systems (GIS)
Communicate geographical information in a variety of ways, including through maps, numerical and quantitative skills and writing at length.
Southfields Primary School also aims to ensure that all pupils:
Show excitement and curiosity about the past and an interest in learning about others and their own past
Develop opinions and interpret History and Geography using a variety of sources and evidence
Develop research and interpretation skills using a range of media and artefacts.
Gain a strong knowledge about their local History and Geography
Have a sense of their own identity within our social, political, cultural and economic background.
Have the opportunity to bring History to life by creating 'History off the page' – Children will have the opportunity to use and access all the different resources in school.
Learn about the history of Southfields School – aided by our own 'Southfields Museum.'
Have the opportunity to visit places of rich History as an added learning tool such as Peterborough Museum
Go on exciting residential visits such as Stibbington where children can apply their geographical skills in real life situations
Curriculum Organisation
History and Geography will be planned, taught and assessed in accordance with the Rising Stars History and Geography framework whilst having regard for the statutory and non-statutory guidance with the National Curriculum (2014) which outlines the aims and objectives for Key Stage 1 and Key Stage 2.
The EYFS framework is structured very differently to the national curriculum as it is organised across seven areas of learning rather than subject areas.
The most relevant statements for geography are taken from the following areas of learning:
Mathematics
Understanding the World
The most relevant statements for history are taken from the following area of learning:
Subject planning for History and Geography has three phases:
Whole school: this ensures continuity and progression within the subject and ensures that there is no unnecessary duplication or omission.
Year Group: this ensures that classes within the same year group cover the same areas aiming for the same objectives.
Class: this allows the teacher to interpret the learning objective in their own way and deliver the lesson in an interesting way for their class, taking into account abilities and needs within the class.
Below are the grids outlining topics for each year group taught at Southfields.
History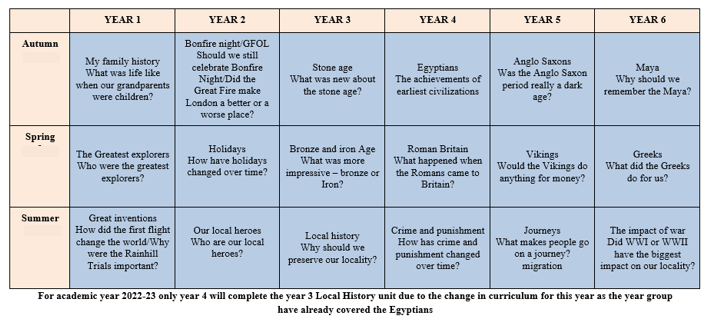 Geography

Continuity and Progression
In order to ensure progression, the learning activities are sequenced within the Rising Stars scheme of work. This is achieved through direct teaching to the class or small groups, by providing direct experiences in practical tasks through using a wide range of equipment and resources within school and experiences on residential trips or day excursions. Elements of History as a subject which are developed each year are; investigating, developing sympathy and empathy for and with people from other eras, questioning, collecting and comparing evidence and reflecting on how the past can assist us in the future. Elements of Geography that are developed each year are; locational knowledge, place knowledge, human and physical geography as well as developing geographical skills and fieldwork.
Progressively challenging but realistic learning experiences reflecting children's cognitive, social and emotional development ensure that they build upon historical and geographical knowledge, skills and understanding further each year.
Time Allocation
An hour of Humanities is allocated to all year groups per week. Geography and History are part of a carousel which rotates thereby providing continuity in the subject and assists in the coverage and completion of the units.
Teaching and Learning Strategies
A variety of teaching methods are used to deliver History and Geography.
These include:
Whole class teaching (for acquiring knowledge)
Small group work (for investigating and discussing)
Role Play and Oracy activities (for developing understanding and empathy)
Opportunities for first hand experiences will be offered where possible, these include:
Fieldwork
Visits to museums and other sites
Visits from people with specialist knowledge
Investigating artefacts
Television
Audio
Drama
Oracy
Utilising new and existing equipment and resources, Victorian classroom, Tudor House, Anderson Shelter.
Activities the children are likely to be involved in are:
Investigations
Gathering, recording and analysing information
Discussion and debate
Question and answer
Writing
Drama/Role-play (including dress up and getting into character)
Presentation of findings
Resources
Resources are organised into boxes which are currently located in the resource cupboard in Key Stage 2. The boxes include resources such as:
Pictures
Photographs
Stories
Reference books
Artefacts
Games
Teacher resources books
Newspapers
DVDs
Recorded television programmes and accompanying teacher notes.
Other Resources:
Websites
Our own Victorian Classroom
Our own Tudor House
Our own Anderson Shelter
Our own Historical Outfits
Contribution to other areas of the Curriculum
History and Geography teaching can be used to enrich and be enriched by other areas of the curriculum such as:
Maths: looking at past number systems, chronological dates.
English: previous languages, communicating historical learning and understanding through reading, writing and speaking.
Computing: the Internet provides a rich source of information on the periods studied and also allows children to build the understanding and empathy for different periods through games and simulations. Computing also offers the children different ways of presenting their findings from historical research.
PE: looking at past exercise regimes and dances(e.g. Egyptian dance)
Music: looking at the development of music throughout the time, instruments played during the time period being studied.
Art: Changes in artistic style and fashions, famous artists throughout History.
Health and Safety
The general teaching requirement for health and safety applies in this subject. All teachers will plan their work with the safety of the pupils in mind.
Risk Assessment
Regular checks and risk assessments are reviewed by all teachers, as well as a continuous risk assessment which is carried out every day.
Annual safety checks are carried out on all electrical equipment and if a potential hazard is identified it is immediately taken out of use.
Equal Opportunities
All children will be given equal access to History and Geography irrespective of race, gender, creed, level of ability or nationality. When planning and teaching History and Geography teachers will consider:
Setting suitable learning challenges
Responding to pupils diverse needs
Overcoming potential barriers to learning and assessment for individuals and groups of pupils
Community Links
The school aims to promote close links with the community through History and Geography encouraging family and local residents' involvement wherever possible. Local learning can be enhanced through links with the community through family interviews, visitors to the school and looking at local architecture/landscapes.
Assessment, Recording and Reporting
History can be assessed in a variety of ways:
Observations of pupils or groups on task
Discussion with pupils about their tasks
Work in books
Pupil's own evaluation of their work
Assessment quizzes
These assessments:
Inform future planning
Provide information about individuals or groups
Provide summative information
Provide information for parents
Assessments are carried out throughout both Key Stages and are recorded on Scholarpack in relation to age related expectations. These are the responsibility of the class teacher with support from the Assessment and Humanities coordinators.
Inclusion Statement
We ensure access to the curriculum at an individual level through appropriate adapted materials to support all learners. Further support is available from teaching assistants and the SENDCo.
Useful contacts/ Websites
http;//www.history.org.uk/resources/resources.html – has articles for teachers to read and examples and suggestions of work for the different History topics
http://horrible-histories.co.uk/ - fun and engaging website for the children to explore the different areas studied in History
The Geography Policy is available here.
The History Policy is available here.